About Ted Williams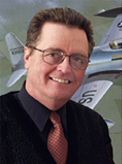 ---
Working from his studio overlooking Canandaigua Lake in the Finger Lakes region of upstate New York, Ted Williams has created a focused body of aviation fine art and illustration. Noted for his stunning realistic approach, he has created paintings and illustrations for a broad clientele, which includes private commissions for aircraft owners, pilots and corporations, as well as historical illustration work for numerous museums and publishers of magazines and books.
Ted primarily works in oil for his fine art and in digital media for his illustrations, but he is also proficient with acrylic and watercolor. However, as Ted is known to say, everything begins with a pencil, "Competent drawing skills are the foundation of any good painting."
Beginning with his art training at the Rochester Institute of Technology, Ted has followed a career in commercial art that has brought him many awards and accolades. He has expanded his work in aviation history by entering the world of publishing as an author and illustrator of his own books. Most notably, his master work is The American Fighter Plane (Metrobooks, Barnes and Noble Publishing). The book traces the evolution of U.S. fighter plane development through Ted's full-color illustrations and drawings with text written by his daughter, Amy.
As a skilled independent artist, Ted's has garnered much praise from among aviation enthusiasts, engineers and historians, "but the best rewards I have received are the many friendships I have established over the years with people who love airplanes as much as I do." says Ted reflecting on his years as an aviation artist and illustrator.